let me just say this. throwing a party is
exhausting
. and this is only addison's 2nd party. i have many years of party throwing ahead of me.
it was pretty perfect though! everything went really well. lots of people came. addison had lots of fun.
my mom and i made almost everything at the party. at least decoration wise. i made the cupcake topper, the decorations on the gift bags, picture frames for the gift bags, the birthday banner, and my mom made her shirt and bow. we opted out of making cupcakes and let publix do that. and it was really cheap too! i found a cute idea to make cupcake toppers, so i did that instead of spending a fortune on an expensive cake or decorated cupcakes. my mom also got lots of cookies (she had a gift card that she needed to use, so we used it!). we had some snacks, and that was that. i'm sure the food was good, but i was running around the whole time and didn't have a chance to eat any of it. it happens.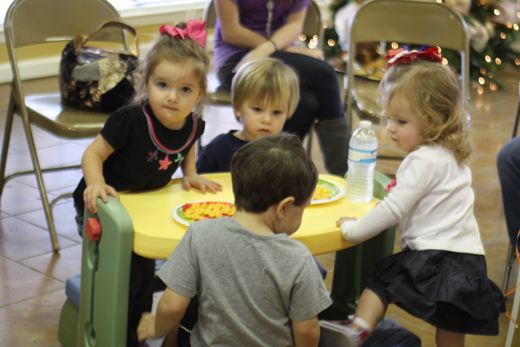 i just had to throw in a picture of baby jackson's snot bubble. it was SO funny! he's such a cutie.
addison got her first car for her birthday. it's so cute. there were a lot of barbie stickers to put on it, but i decided not to put those one. they weren't that cute. i figure we can decorate it ourselves.
she's not the best driver. but it takes practice, right? she would just sit back and push the gas. she wouldn't hold on to the steering wheel or anything. and she closed her eyes some. we need to give her some driving lessons.
addison definitely racked up! she got a lot of really great gifts. can't wait to play with them too :)
i'll be posting some tutorials on how to make the cupcake toppers, the picture frames, the birthday banner, and the shirt. it involves a lot of cutting, so be ready!! i became a pro with the scissors!